Karamursel Class Pictures
---
Class of 1972 group, from left to right, Ron Nolet, Becky (Skags) Feller, Ron Feller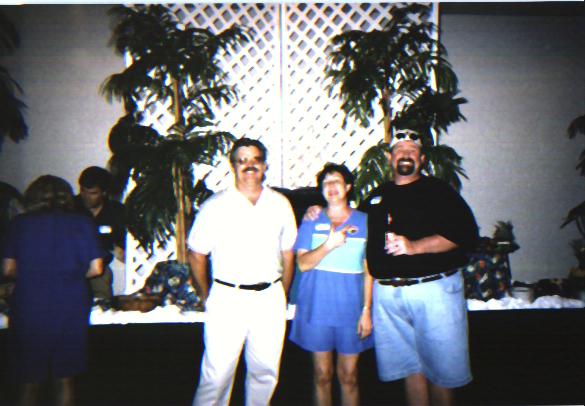 ---
Class of 1973 (maybe I should call it group of '73 because a few in this picture left Karamursel High in '73 and were actually juniors at the time) - left to right again: Jeanna Lyons, Nan Bishop, Angie Robertson, Paul Dion, Jo Keggler, and Mike Sharp.
---
Class of '74, the largest graduating class at KHS, represented at the reunion by:
Bottom row: Terry Churchill, Gene Bennett, Andrea Ballantine, Ralph Diaz.
Top row: Kristy Jourdan, Mike Smith, Raleigh Hawes, Joyce Carrier, Dawn Totten, Robin Bennett, Brenda Blankenship, and me (David Councill).
---
Class of '75, Lee Reinig, Mike Pehacek, Carol Bundick, Ples Kujawa, Gina Giovaninni, and Wayne Vanaman.
---
1976 - Karen Butler, Mark Lyons, Tanya Abreau, Bob Carrier, David Herron, Tonia Kolencik, Kelly Neher, Vicki Ulring, and Dale Dapson.
---
1977 - Karmursel's wildest class?? Vicki Ulring, Elizabeth Schupp, Pam Mixon, Louie Scaramucci putting a hug on Debbie Adcox, Beverly Mixon, Neal Reinig, Rick Dorrity, Kristi Neher, Debbie Mixon, Karen Reinig, and Annette Reinig.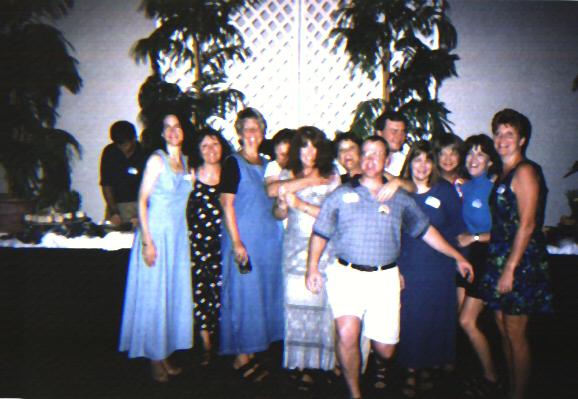 ---
Kougar cheerleaders rule!
---
Another picture of the still beautiful Kougar cheerleaders, from left to right:
Kristy Jourdan, Debbie Mixon, Beverly Mixon, Linda Dryer, Jeanna Lyons, Joyce Carrier, and Robin Bennett.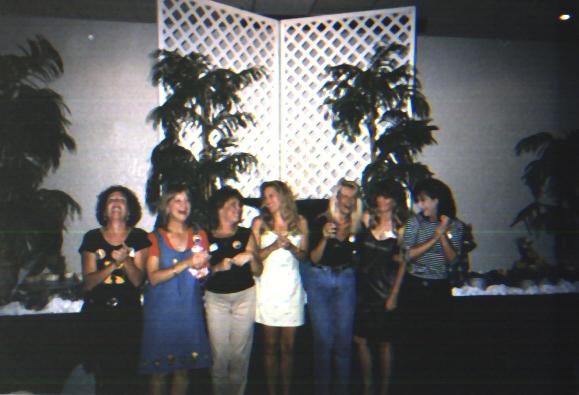 ---
More of Beverly's pictures from the reunion